🚀 Does Arabic have to be this difficult?
What does learning Arabic mean for you?
For some of you…you want to learn Arabic for the first time, but just don't know where to start.
For several of you…you want to develop a deeper understanding of the Qur'an (the word of Allah SWT), but you have tried multiples times and it just doesn't stick.
For others of you…you are looking for a program that will give you a foundation in Arabic.
And for a few of you…you are looking for a support system that can help you learn Arabic in a way that is SIMPLE, and most importantly that is designed to hold you accountable so you don't lose motivation.
There is no question that understanding the Qur'an, hadiths, and other texts will deepen your love. But it cannot be attained without taking the first step – learning Arabic.
More than just its capacity for deep beauty and eloquence, there's secrets embedded within its grammar, vocabulary and derivation. Not everyone who learns Arabic online knows about these secrets. Not everyone who teaches Arabic even knows them! In this Program, we'll expose you to some of these hidden treasures.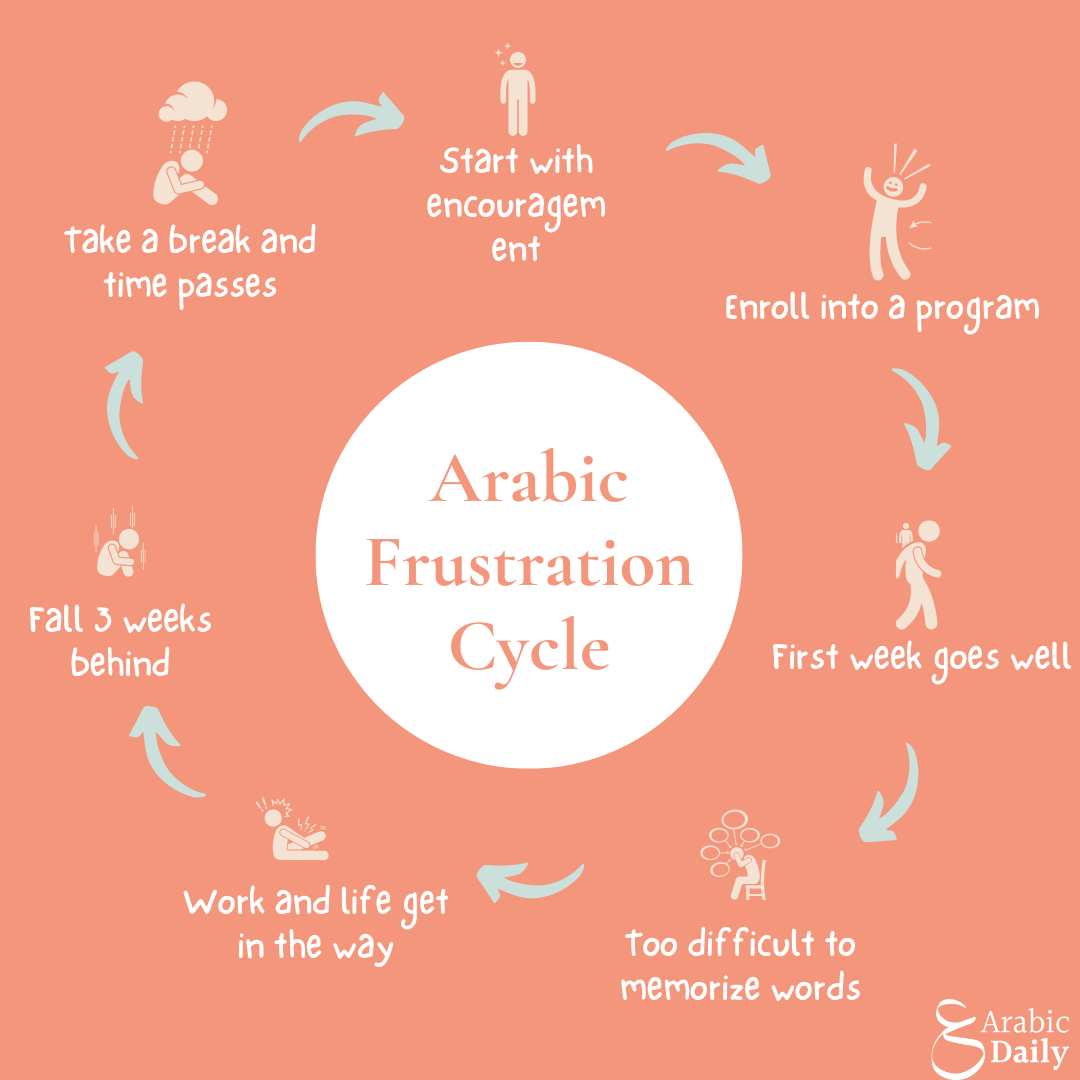 ⚗️The Secret to sustained success in learning Quranic/Classical Arabic
Over the last decade, I've learned a lot about what it takes to learn Classical Arabic effectively.
I've traveled the world, obtained degrees, and had to learn Arabic from scratch like many of you.
And you know what? There's no secret. It's just a matter of:
1. Building from the ground up.
2. Not overloading yourself with memorizing from the onset.
3. Having a support group that will reach the finish line together.
That's all it takes.
I personally guarantee that if you follow this program, you will have clarity about Arabic, and will be shocked as to how easy it is.
But as with all things, getting started and maintaining quality + consistency is easier said than done.
🎯The Challenges Arabic learners face
Many of those who aspire to learn Arabic don't end up taking action because of the following reasons:
-They are unable to recite the Qur'an with proper tajweed so how could they possibly learn Arabic?
Alhamdulillah, we are able to help even the most basic of learners even if you don't know ANY Arabic words or tajweed (all you need to know is the alphabet).
-They have a full-time job and don't have the time to go through extensive and lengthy Arabic courses…
We completely understand that most people don't have the time to invest hours everyday into their learning. This is why we structured our 30-Day Ramadan Crash Course to be a quick, easy, and simple program anyone can follow and benefit from, without sacrificing any of the quality.
-They are too old and it's too late to learn a completely new language…
At ArabicDaily, we mainly work with adult learners and have customized our curriculum to ensure all students from all ages can succeed and achieve their language learning goals. Our purpose is to make Classical Arabic accessible to all students to spark their love and interest for the language.
-They don't know any Arabic words or vocabulary…
Thanks to this Ramadan Arabic Crash Course, you will be able to go from knowing no Arabic words or vocabulary to having all of the tools necessary to independently understand Arabic through the Qur'an at your disposal.
🧠Arabic Daily Adult Classes
Arabic Daily has divided Classical Arabic learning into 6 levels. Each level is the equivalent to a semester. Classes run twice a week for about an hour allowing busy individuals to learn without disrupting their schedules.
The first three levels fall under our Fundamentals Track. The goal of this track is to build the framework of Arabic. We teach you all the tools you need to navigate through Arabic.
The last three levels fall under our Reading Track. The goal of this track is to build vocabulary and reading practice by practically using these tools.
We are offering our first level, FCA 100, a 12-week live online course from 8th September to 18th December where I'll teach you the basics of Arabic morphology, words.
During this semester, we'll have a combination of live zoom lessons, open live Q&As, recordings available, and exercises to help you achieve the goal you have been wanting for so long.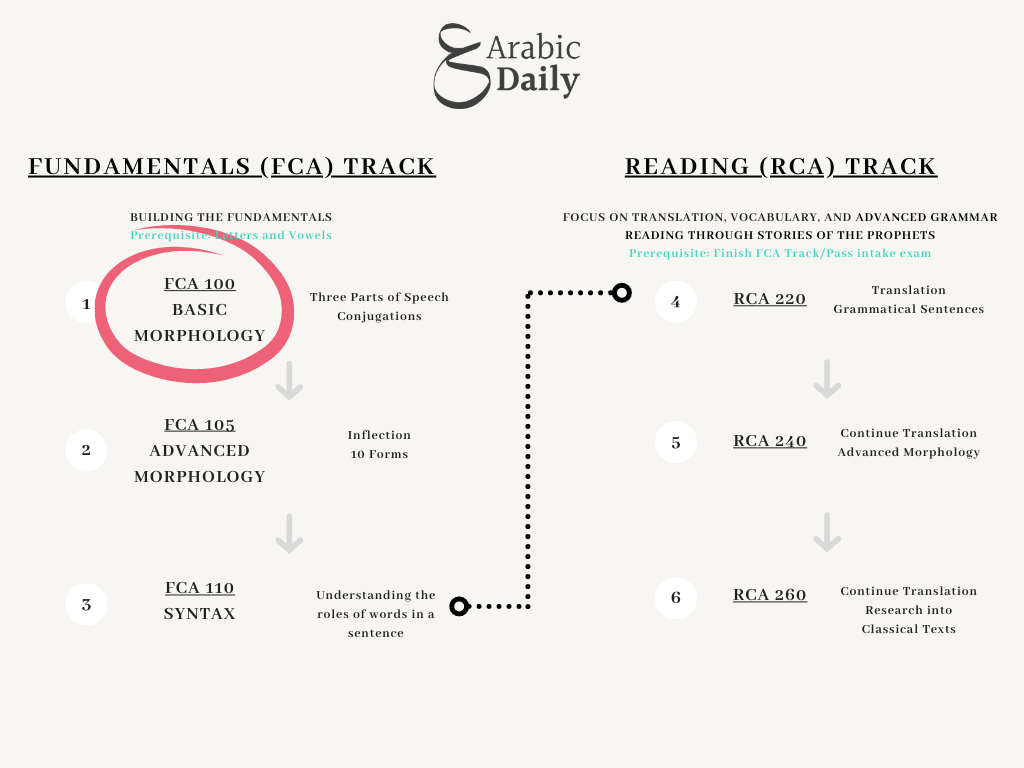 I appreciate that FCA 100-105 introduces grammatical structures – I am sure that this is a superior and more effective teaching method and am enjoying this approach.
I am appreciative of the depth and breadth that our teacher brought to my understanding of what it means to be a learner of the Quran. I admire Ustad Faraz's  dedication and patience!!
I highly recommend this course to anyone who wants to ease into learning Arabic with the goal of being able to read or follow along the recitation of the Quran. The instructor uses very effective pedagogies.
🥳 In this course you will…